Thinking about visiting Zakynthos aka Zante for your Summer Holiday in 2024?
Well, if it's beautiful beaches, world class events and amazing nightlife you seek – you're on the right track!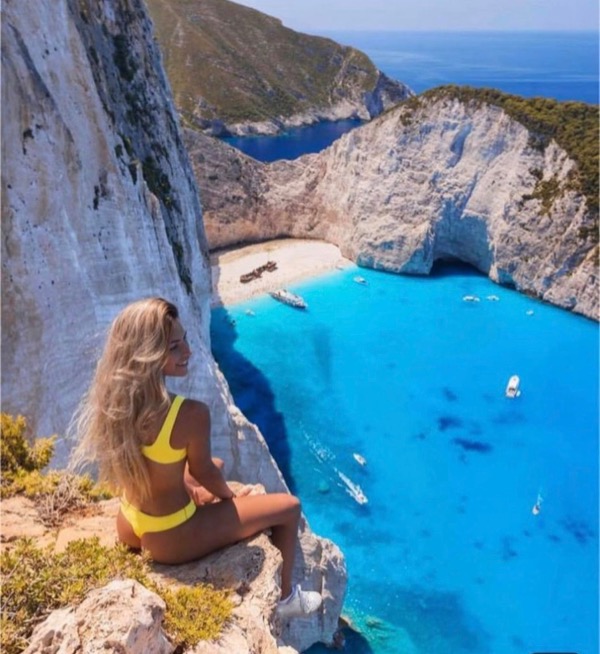 Why choose Zante for your summer holiday?
One of the best things about Zante is that it's great value. You can get return flights from the UK for around £150 and with booking.com and other websites allowing you to book hotels & villas direct, there's never been a better time to organise your own holiday, rather than use one of the big tour operators.
You should 100% look into booking your own flights and hotel rather than a package, always a lot cheaper.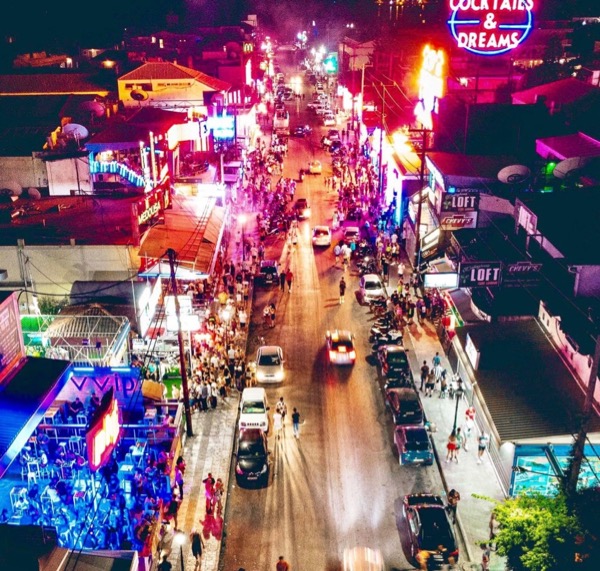 The Laganas Strip 
The independent event scene in Zante is thriving which is great news for those on a budget. Rather than paying £300 to your hotel rep when you arrive for an events package fluffed up by theme nights like school disco's and glitter nights, most people now book the big events online – saving themselves a fortune in commission.
Over 15,000 people booked our A-list Zante event packages in 2023 which range from £85 – £135 and include tickets for all the biggest events on the island including The White Party, Nathan Dawe, Tom Zanetti, Karma Pool Party and VVIP Yacht Party.
A-List Zante Summer 2024 Schedule
If you want VIP tables, cabanas and beds at the big events we would recommend booking early as Summer 2024 is going to be the busiest on record.
Your deposits are held in a trust account and only released after events have taken place and are fully refundable if your holiday is cancelled, so you have peace of mind when booking with VVIP Zante.
Check out our A-List Event Packages for Summer 2024 here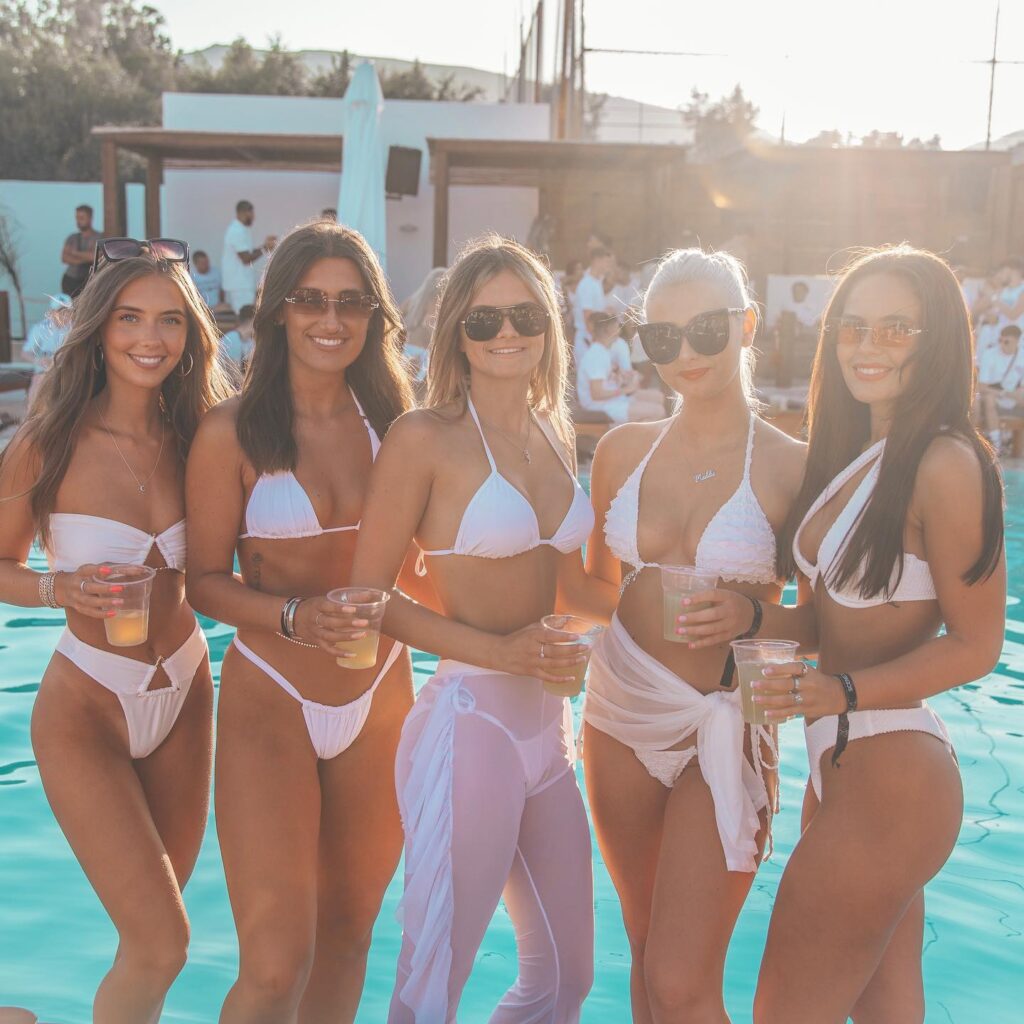 The Best Nightlife in Europe
Zante is the most popular party island in Europe for 18-30 year old's and it's getting bigger and better every year. It's only a short 3 hour hop from the UK and boom – you've arrived in sun and party lover's paradise.
Swanky pool parties are going off by day at the beach clubs. There are some crazy club events going off by night and of course the famous VVIP Yacht Party sails into the sunset 5 nights a week peak season. Widely regarded as the best boat party in Europe this is the hottest ticket in Zante with events selling out weeks in advance.
If you haven't already discover why VVIP is the most in-demand event ticket in Zante.
The Laganas Strip
As for the infamous Laganas strip if you hit this road of debaucherous ruin hard it will hit you back. Harder. There are no organised bar crawls in Laganas as the whole strip is essentially one big bar crawl. Packed with bars and clubs, pulsating with music and light and teeming with people from all over Europe the Laganas strip is pure mayhem and an absolutely cracking night out.
You can rock in and out of loads of bars and clubs as they are all pretty much free entry and competition is fierce for your money so you can get some decent drinks deals.
Note! You will see a lot of casualties passed out on the pavement or being carried home by friends when you're out and about in Laganas so don't get too carried away with the drinks deals!
Remember Zante is not all about boozing, nightclubs and partying. The island has scores of beautiful beaches with safe, crystal clear waters, which rival anywhere in the world. In fact Zante's most famous beach 'Navagio' aka Shipwreck Beach has recently been voted THE NO 1 BEACH ON THE PLANET!!
There are some wholesome daytime excursions you should aim to enjoy while you're in Zante, so make sure you experience the island all of the island when you visit and don't just get smashed in Laganas all week.
All VVIP and A-List Zante ticket holders in 2024 will receive our complementary discount wristband which saves you at least 50 euro in commission on Zante excursions – check out all the discounts here. Zante 2024 Discount Wristband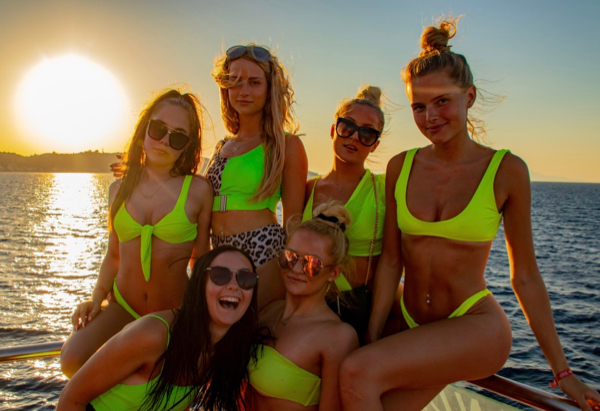 Now we know you're here for the nightlife, so let's start with our favourite bars in Laganas.
G-Spot Bar
Located just before the main strip starts, G-Spot has been an iconic Zante drinking den for many years and is where every good night out in Laganas should begin. Serving classy cocktails with a chilled out ambience there's always a table or sofa to grab and it's a great shout for your first couple of rounds to get you in the mood for a big night out.
The drinks are spot on here with a contemporary cocktail menu featuring Porn Star Martini's, Mojito's and Daquiri's etc. We rate this as the best bar in Laganas and VVIP ticket holders get a free shot with every drink = winning.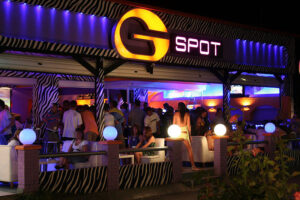 IKON Bar & Club
IKON marks the start of the strip proper and there's always a buzzing party atmosphere with girls invited to dance on the bar where they will be waving their bra's around at the behest of the lively bar tenders. IKON is a great place to buy a bottle of Ciroc or Absolut to enjoy on their VIP terrace which gives you a great view of the passing humanity as it flows down the strip.
IKON have been throwing some of the biggest events in Zante for many years now and is home to the hugely popular Nathan Dawe tour , Tom Zanetti on Tuesday's and the very messy Zante Foam Party. T
The Nathan Dawe Tour in 2023 featured special guests Aitch, Headie 1, Jaykae, Bru-C and Window Kid, Swarmz, Young T and Bugsey. Savvy punters snapped these tickets up for £12 via A-List Zante package deal which was a smart move as they were being sold for up to 75 euro on the streets in Laganas.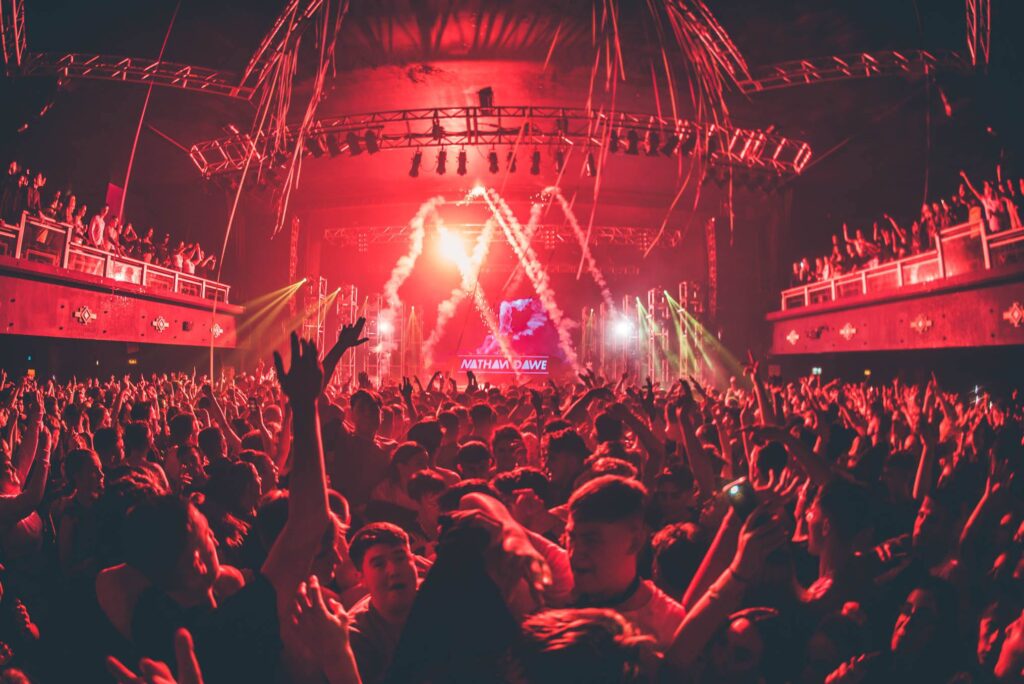 Rescue Top Bar
An oasis of sophistication and tranquility, located right in the centre of the Laganas strip, yet still far from the madding crowd it is with great reluctance we share the secret of this hideaway. Top drawer cocktails here only so don't ask for a Sex on the Beach.
When you are fed up with sticky dance floors and cheap cocktails head up to Rescue Top Bar, grab a sofa and enjoy the scenes as they play out down below. There is usually one or two riot's in Zante peak summer and there is no better place to watch them than from a comfy sofa up top.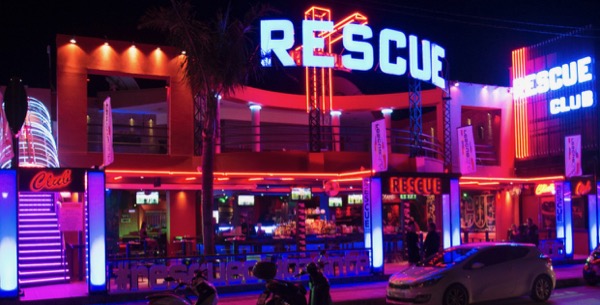 Night clubbing in Zante
Cocktails and Dreams Night Club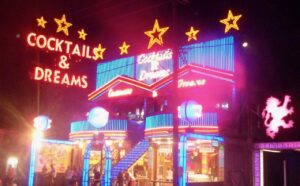 Entering this club is a life changing experience. You know you're in the right place when you set foot in cocktails because 10 times out of 10 it's absolutely going off. The lights and sound are a complete sensory overload with the DJ switching songs sometimes every 20 seconds, it's hectic but very enjoyable when you're tipsy and you enter with the squad.
Once upon a time a young man called Watson sat on the balcony of Cocktails and Dreams, lost his balance and toppled off backward. Miraculously, he executed a perfect reverse somersault, landing neatly on a stool in the kebab shop 15 foot below. With incredible panache he then shouted out 'large chicken donor please'.
This is why you're going to love Zante, it's an absolute lunatic asylum.
Rescue and Zero's Nightclubs
The two super clubs of Zante, Rescue and Zero's are at the epicentre of the Laganas nightlife area. Both are huge operations with lively front bars and massive clubs out the back. Peak summer the dance floors are guaranteed to be heaving and considering they don't charge for entry they are always a good place to rock in for a rave as they have top notch resident DJ's.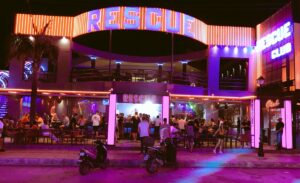 Waikiki Club
Located near the beach at the bottom of the strip this penthouse R'n'B club is a favourite with the Zante workers and is probably the only club in Zante that ever has a queue outside it which tells you everything. You need to go to Waikiki to get a break from all the commercial and cheesy music you will hear all night as you make your way down the strip. Waikiki closes late and is where pretty much everyone in the resort ends up at the end of the night.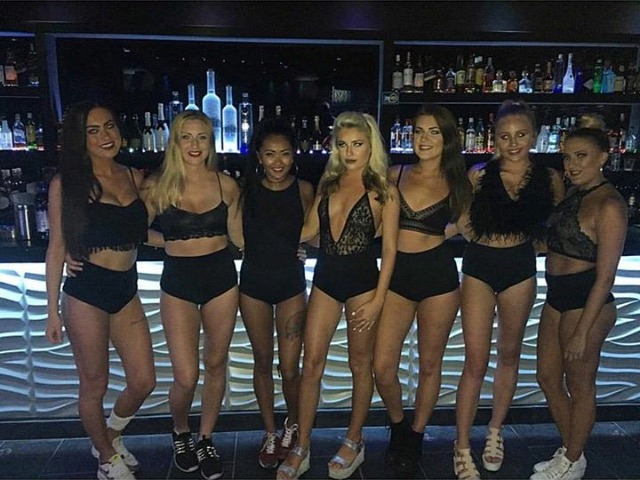 The Best Places to Eat in Laganas, Zante
Peri Heaven
It's never a bad idea to hit Peri Heaven for a chicken feasting sesh. The service is great, the chicken is even better and we highly recommend a sit down meal here at some point over your holiday. It's basically Nando's on tour and all VVIP Zante ticket holders get free chicken wings with our Zante 2023 discount wristband which is a clucking bonus!
Panos grill
No, sorry, nothing going on here. Just walk straight past please we don't want anyone else discovering this absolute NOSH PIT on the Kalamaki road. We often fail to get a table here as it's so busy and it's not just the tourists, lots of local Greeks know about the quality of the food here which is a great indication something special is going on.
This is the best Greek style places to eat in Laganas. The menu is packed with so many tasty things to try if you visit once you will definitely be back for more. Freshly grilled chicken souvlaki served with toasted pita, salad and chips is really something you have to try in Zante and this is the best place. Also the lamb, the gyros plates and wraps are excellent, try to find this place on your holiday it's amazing.
Cool Peppers
Located on the beach so you're instantly off to a winner here as the setting is close to perfect as the sun sets, you may even see turtles popping up their heads if you're lucky. This very popular restaurant has a modern European menu and it's all well executed. The Kung Po chicken is tasty but the best bet has to be the humungous rack of ribs which are about 2 foot long. The Jack Daniels steak is another favourite.
Cool Peppers is a great option if your celebrating someones birthday or just fancy a nice meal. You definitely have to eat on the beach a couple of times when you're in Zante and this restaurant is the best option. All VVIP Zante ticket holders get 10% off their bill at this Zante institution.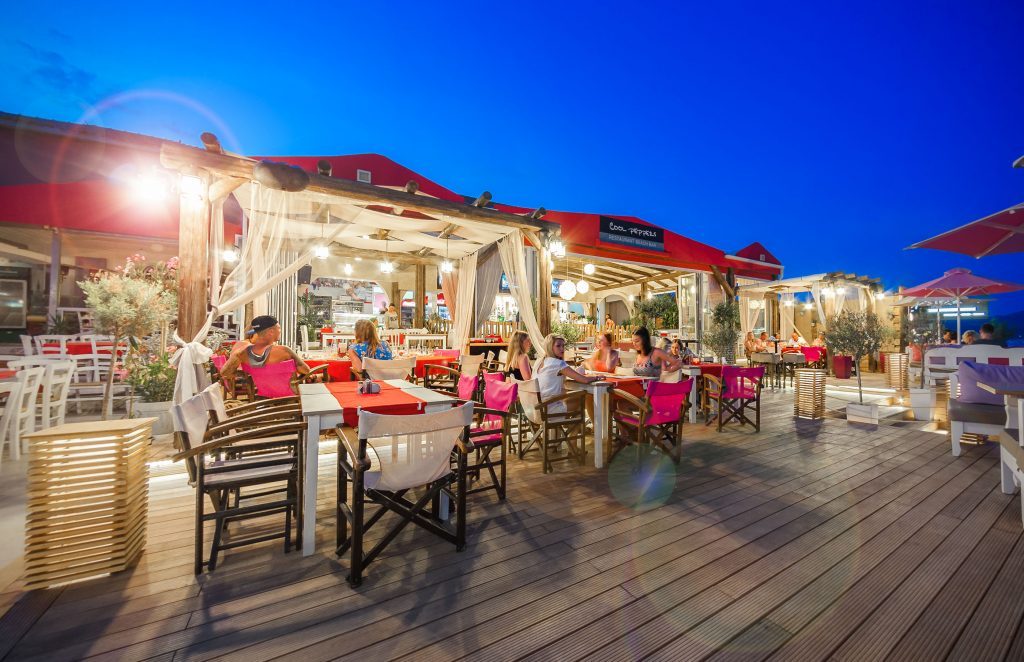 Honorable Mentions
There are loads of great fast food outlets in Zante – Big Boys, Red Castle, Blue Penguin, Munchies to name but a few, all you need is 2 – 5 euro for a good feed. Be sure to sample the gyros pita it's amazing! A special mention must go to the 1 euro pizza slices from BJ's, which have reached legendary status in Zante and have probably saved many peoples lives. Absolutely stunning value, you could have one for breakfast, lunch and dinner and be quite satisfied and you would only have spent 3 euro!
The Best Things To Do in Zante During the Daytime
The Bay of Laganas is calm as a lake and you can walk out for ages without being out of your depth so it's really safe. From June through to September it's lovely and warm and mid summer it's like a bath! There are no sharks or jelly fish or anything nasty, no seaweed, no stones and it's crystal clear.
Incredibly, just a few feet from the shore, if you keep your eyes peeled, you will encounter huge 'Caretta Caretta' aka sea turtles. These gentle, prehistoric amphibians have been using the bay of Laganas to breed for millions of years. Swimming alongside them is absolutely amazing.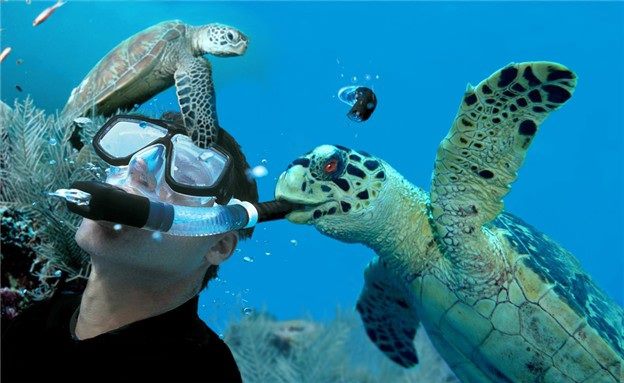 So, that's the first tip. Go to the beach! It is truly lovely and the top tip has to be Hamsa Beach Club. Or if you don't like salt water then hit up Karma Day Club, home of The White Party, the biggest event in Zante which has been running every Sunday for many years, we think this is unmissable if you visit Zante and is included in our 2023 A-List package, check out details here – The White Party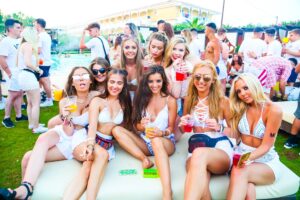 The White Party is the Biggest Event in Zante and is unmissable
So the next tip is go to the beach again! This time hire your own speedboat for the afternoon and sail to Turtle Island which looks exactly like a turtle, hence it's name. You probably won't be the only one who finds it mind boggling there's a massive island that looks like a turtle from every angle, in the same place as where turtles have been breeding since life began?! Maybe the turtles made it?
A day out on a speedboat is a classic holiday experience and providing you apply sun screen and don't stupidly crash the boat you will have a great day. There are some cliffs you can dive off, gorgeous beaches to plot up at and also a rather tasty cave to explore. Make this happen on your holiday.
All VVIP Zante ticket holders get commission free prices and also an extra hour, saving you decent money on this epic day out.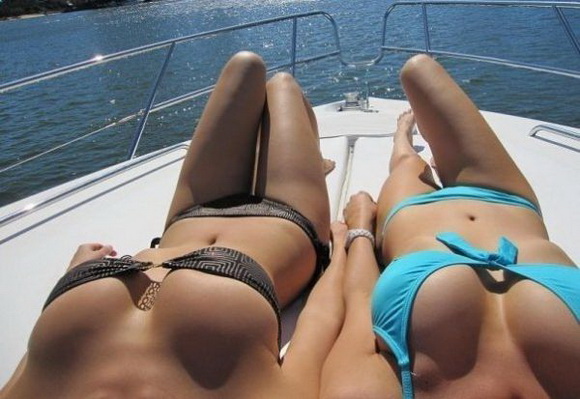 Best thing to do in Zante number 3
So, third tip. Wait for it….Yes you guessed it. Go to the beach again! This time, take a coach to St Nick's beach which is about 40 minutes away from Laganas, but actually a really nice journey as the bus takes you round the coastline, so you get to enjoy a bit of scenery.
This beach is even more beautiful than Laganas and also has some bad ass water sports going on, which is a brilliant way to enjoy some fun with your friends. VVIP Zante guests benefit from a free transfer to the beach (usually 15 euro) and 25% discount on the activities saving you at least 30 euro PP.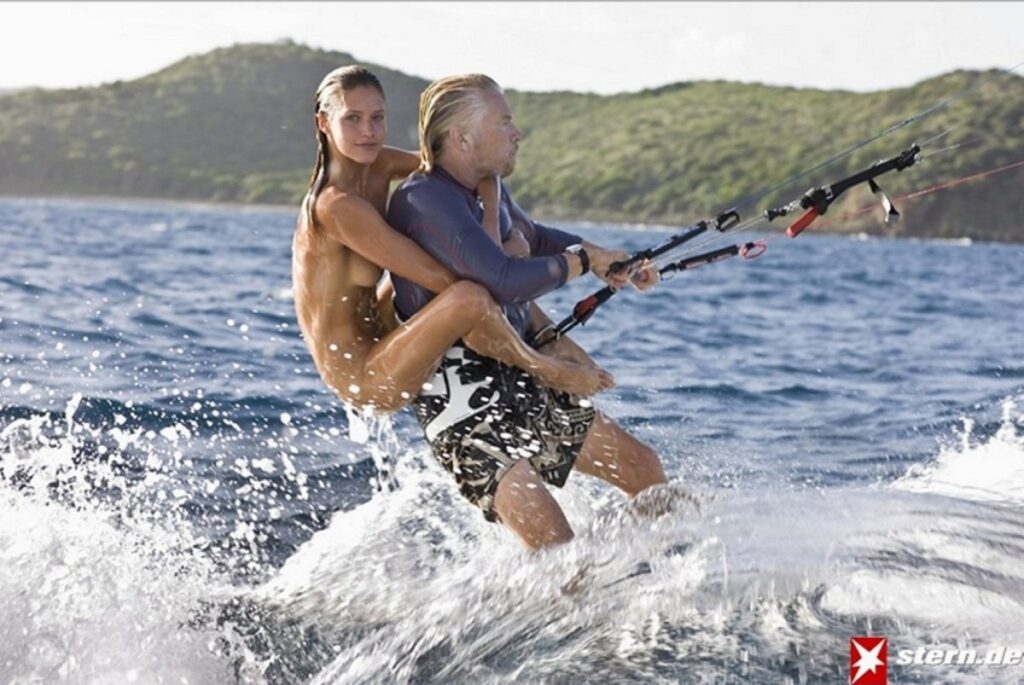 Finally, our fourth Zante day time tip. And yes it involves a beach. Not just any old beach this one. The iconic and world famous 'Navagio' aka Shipwreck Beach. Consistently voted in the top 10 beaches of the world this is absolute paradise, the water is so clear it looks like the boats are floating on air and it really is a lovely experience.
A massive top tip is to take a smaller boat before the big crowds arrive which our resort team can help organise for you.
Zante Spending Money Guide
Pay attention now, this is GOLD. Firstly, don't change currency at the airport. This is truly an epic fail as you will get a very poor rate. Don't be fooled by the 'no commission' signs, as they are making plenty of commission you can be sure.
Shop around for the best rates at your banks or on your local high street. Or ask Dad where is best to change your money as Dad's know stuff like that. Change at the airport you will have 50 euro less to spend in Zante!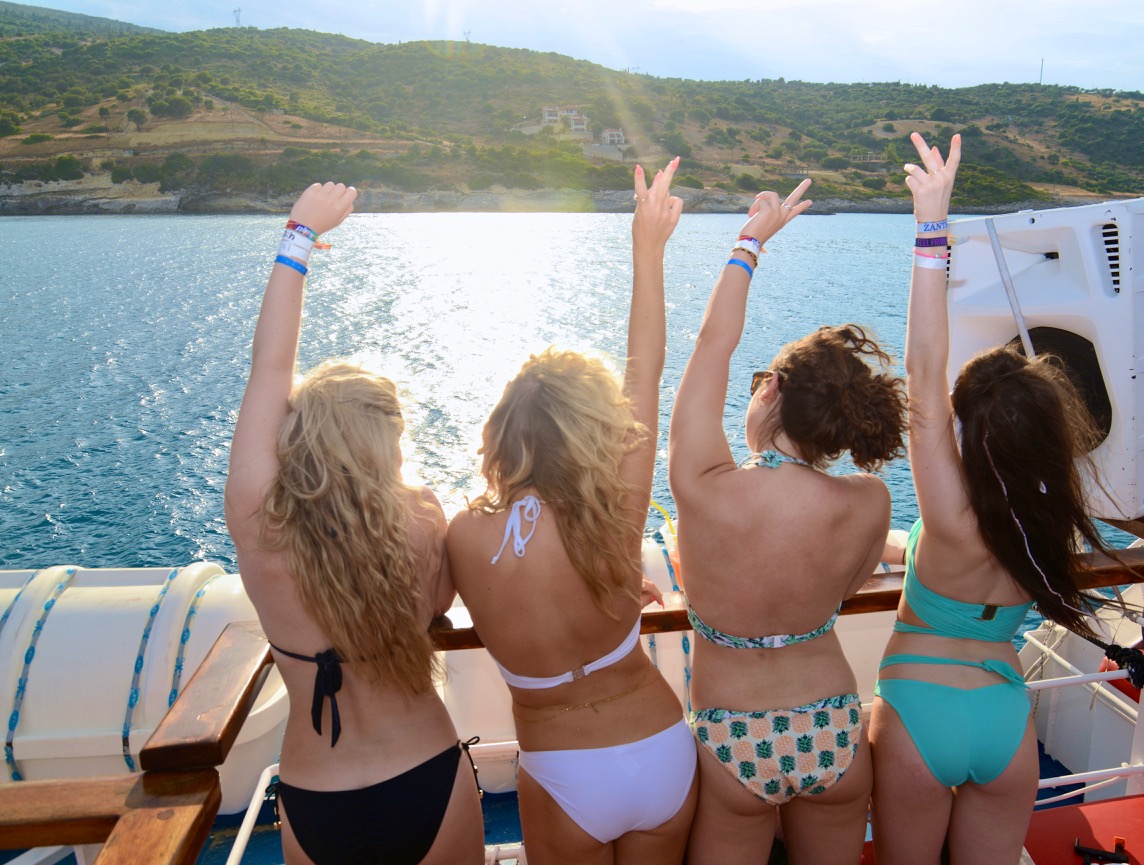 The Biggest Financial Mistake You Can Make in Zante
If you can't organise your friends to book events and party's online for fu*** sake don't hand over all your spending money as soon as you arrive to the first person who asks for it, which if you have booked with a large tour operator will be your very friendly rep.
When you arrive in Zante, before you've even unpacked, you will find yourselves on the receiving end of a big sales pitch where your rep will try their utmost to sell you a 'block' of events to cover your whole week. We have yet to meet ANYONE who actually bought this and were happy with what they received and there are loads of posts on Trip advisor and social media warning you against doing this.
Have a walk round Laganas and compare options and prices from outside the clubs and ticket sellers. 280 euro is a lot of money (about £260), and for many people it will be a massive percentage of their holiday spending money.
Don't go All Inclusive.
All inclusive is great for families with a few kids who are happy to eat chips, pizza and pasta for breakfast, lunch and dinner 7 days on the bounce, however it's a bad idea for you and your friends. You can drink what you want  and save money is the game plan but the drinks are shoddy and who wants to drink in a hotel bar all week when you're in Zante?
We have never heard any good reports about the food or drinks, only complaints. Also, eating at the tavernas and restaurants in Greece is an experience you should look forward to and enjoy. There are some amazing local dishes to sample which will give you a love of Greek food for the rest of your life, or if you're unadventurous you can get a decent English breakfast anywhere for 5 euro and eat out for 10 euro pretty much everywhere.
Watch out for silly drinks deals
As we mentioned earlier, you will be offered some crazy drinks deals in Laganas as some of the smaller bars are desperate to get you in. Or the dodgy booze cruises offering 6 hour free bars to you will be sold to you on the Strip and also online now.
Just remember if something sounds too good to be true then it probably is. You're not going to get the best quality booze that's for sure. Quite the opposite in fact and thats not going to end well, you literally might lose your eyesight.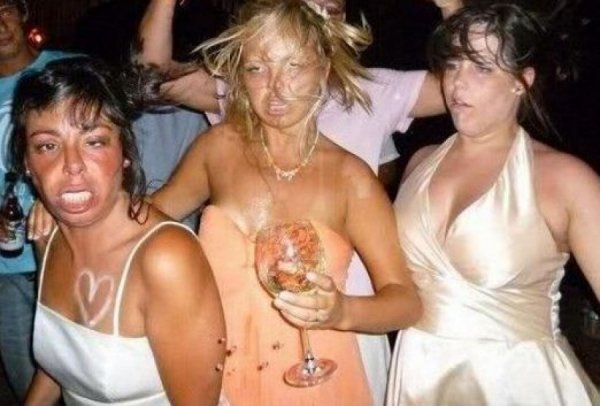 Avoid a hospital or morgue visit.
Every year in Zante we have loads of accidents on the roads and they are pretty much ALL quad bike related. If you want to rent a quad bike then you need to be very careful because if you prat about or drive too fast you are going to come a cropper and we see it it happen literally every day of the week.
Quad bikes don't have seat belts or any protection at all, they tip over very easily and the standard of driving in Greece is also pretty terrible. Our advice is simply do not get one.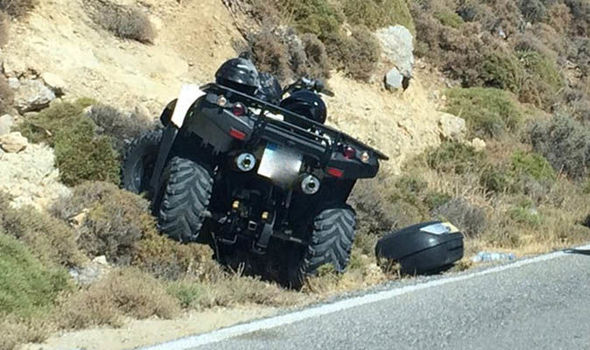 Getting spiked in Zante
There's a myth perpetuated that people get their drinks spiked in Laganas. The British Press love stirring it up in a bid to wreck the islands reputation. It's funny how none of the Zante workers get spiked? Or how it's only English teenagers under the age of 20 who it happens too.
Basically, it's a complete urban myth, no one gets spiked in Zante, however many young people get carried away and spike themselves, 50,000 teenagers a year in the UK are admitted to hospital with alcohol poisoning and its the same in Zante; add 40 degree heat, an all day sesh and sunstroke to the equation and that's why some fools end up in puddles of vomit on the pavement.
Unfortunately, some hotel reps now perpetuate this myth for their own financial agenda. Don't drink at this bar you get poisoned…. but make sure you come on my bar crawl tonight, only 30 euro, and we will avoid all the places you get spiked. Cynical isn't it?
All in all, stay at least a little sensible, don't go mad on the shots, and go easy drinking in the blazing midday sun and you will be fine. (4 seasons getting smashed in Laganas at every bar and club and have I never so much as thrown up once)
Finally, remember your common decency in Zante.
When in Zante please remember your manners for which the British people already have a great reputation!
One of the reasons we don't play sex games on the VVIP Yacht Party is because we don't want to tarnish the reputation of the resort. We don't want Zante to be the victim of a British press witch hunt like Falriaki and Magaluf. Be warned that any lewd conduct will not go down well with the Greek locals.
Wearing a Borat mankini down the strip might seem like great banter but when you are getting your testicles pulverised by a baton wielding policeman you won't be finding it so funny!
Be polite and friendly to the wonderful locals and they will be nice as pie back to you. If you're rude, rowdy, vulgar or violent and misbehave in Zante you're going to enter a whole world of trouble, but in our experience 99.9% of people are nice and pleasant and will have no problems.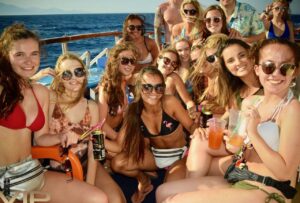 If you have any questions about Zante, feel free to ask our Resort Team who have a wealth of experience, either in resort or via email before you leave.
Our Resort team can organise:
Restaurant recommendations and bookings (we know some amazing restaurants in Zante)
Executive mini buses for up to 20 people for airport transfers and tours, very useful if you have booked a villa
Private Hire speed boats
VIP boat trips to Shipwreck Beach
Free coach transfer to the water sports beach
And of course all ticket holders get our discount wristband, which actually works and will save you a few quid over your holiday.
Office@vvipeventszante.co.uk
We really hope you have a lovely holiday in Zante!