Zante Boat Party 2020
Why is the VVIP yacht party the most requested event ticket in Zante and the No 1 boat party on the island?
Answer.
When you visit the gorgeous Greek island of Zante, what better way to see it than cruising the coast at sunset on a big shiny yacht, popping bottles with your friends with a banging party going off all around you?
What could possibly be more fun that that?
Partying on a boat sailing round a Greek island is is simply an amazing experience which everyone needs to do when they visit Zante.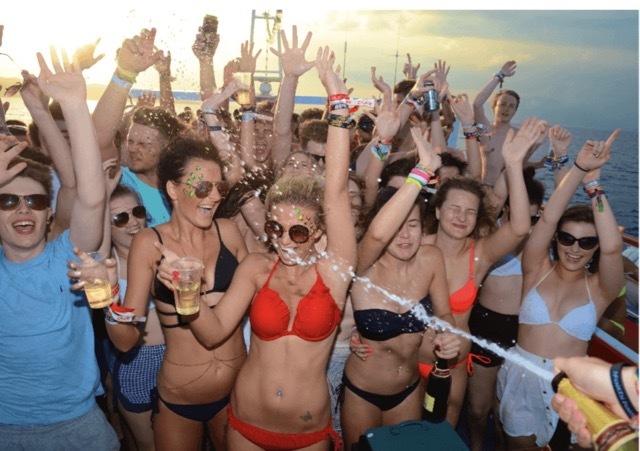 Every summer in Zante new booze cruises and boat party's pop up because every Greek with a boat wants to get a piece of the action. So called 'booze cruises' are held on fishing boats, small one deck daily cruisers and even smaller turtle spotting boats with 80 people crammed on a boat meant for 30.
It's vital to understand any event or party is only as good as it's venue. You cannot have a decent party on a small boat with one shared toilet, one deck, no shade and fixed picnic bench seating. There's no bar just a giant bucket of 'cocktail'. There's nowhere to dance or move around. The speakers are a joke.
The Zante boat party game changer is VVIP's venue. Our super yacht 'Ikaros Palace' has 3 large decks, 2 bars, 2 dance floors, a state of the art sound system, VIP seating, chill out zone, 8 bathrooms and comfortably holds up to 300 people.
VVIP is the only boat party in Zante you can actually move around and dance onboard in style and comfort.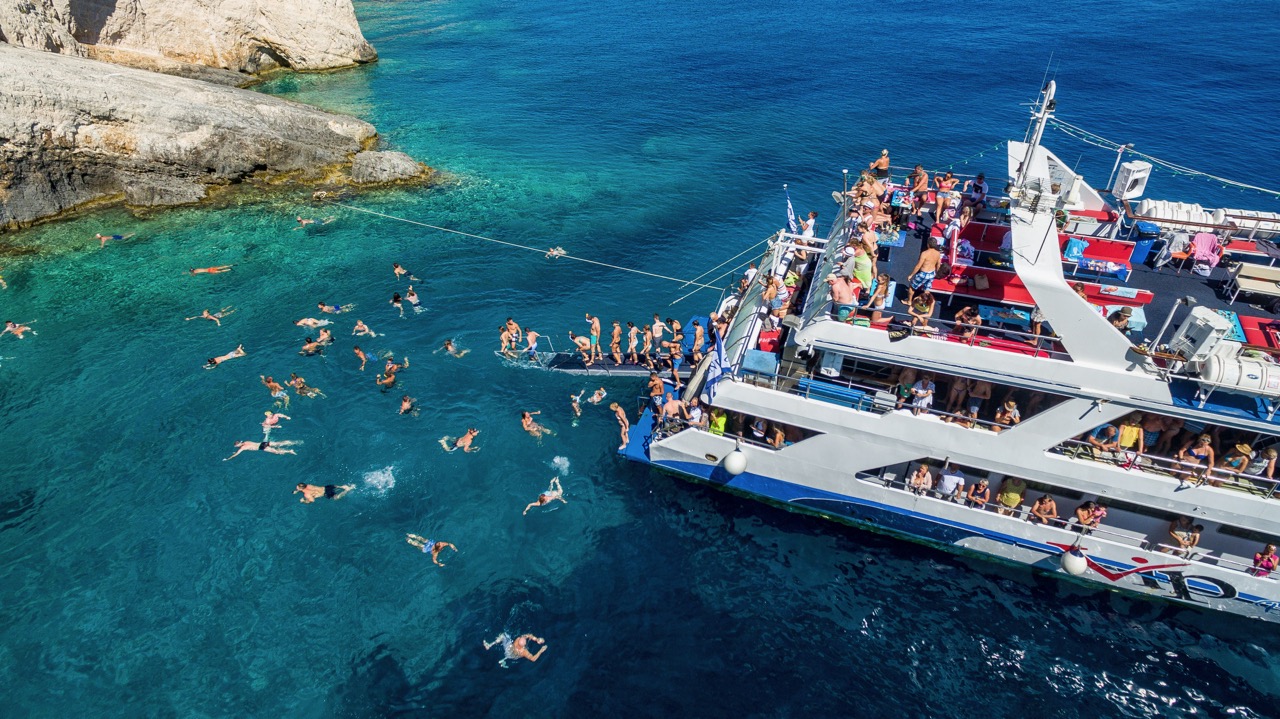 VVIP Reputation
When we first set sail in 2012 our mission was to get rid of tawdry sex games and add quality to the jaded and outdated booze cruise formula. VVIP was the first company to set sail at sunset when the fierce heat of the day has gone and the scenery is at it's most beautiful.  We've been a roaring success and have had some absolutely amazing evenings out on the 'Ikaros Palace'. Please be sure to see our 'Hall of Fame' gallery page
When you are successful in the event game you will always suffer from imitation and copying, which isn't the biggest form of flattery, it's actually really irritating. However, it only inspires us to keep improving and innovating. Unfortunately, there is now a lot of bullshit by promotors with no reputation to lose. They simply don't care about lying to you, or tricking you into booking.
Zante Boat Party Facts
1. VVIP is the longest running boat party in Zante first setting sail 2012.
2. VVIP yacht party has been fully sold out every sailing for 6 years on the bounce and we have never cancelled. You can see every photo album on our facebook page.
3. VVIP is the biggest boat party in Zante by any marker. We start earlier in the season, finish later, take 5 times as many people and have more people on board every sailing. Anyone telling you otherwise is lying to you so just think what else they are lying to you about? Everything to be frank, there is some shameful false advertising going on, you have been warned.
4. Writing this mid August 2019, yesterday both of our biggest 'rivals' cancelled their event. We sailed packed out and had to turn away over 50 people.
5. We happily feature pictures of our venue 'Ikaros Palace'. NO OTHER BOAT PARTY in Zante does this, because they know it would be business suicide. Many use pictures of boat party's from Ibiza to trick you into thinking that's what theirs looks like. It's a terrible feeling to step off a coach expecting a big party boat only to discover you're being crammed on a rusty old converted fishing boat with one shared toilet.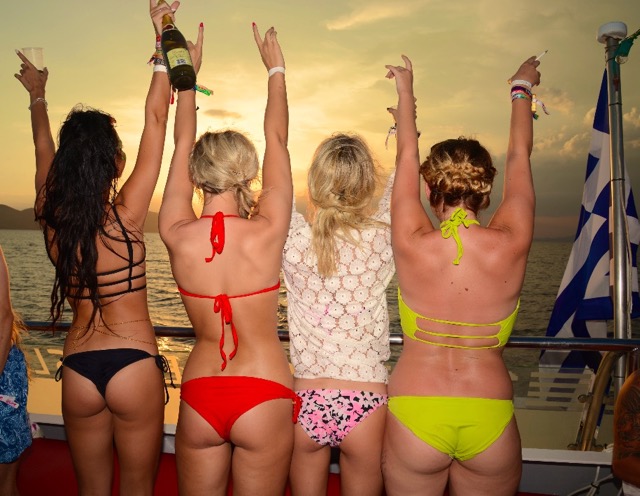 6. VVIP is the only boat party in Zante that is in charge of the bar onboard. Another crucial factor to our success and something we insisted on from 2012. We only offer quality alcohol and we can give out free shots of Ciroc and Grey Goose without the Greeks going mad at us and we don't need to try to make money by selling you a free bar. There is no such thing as a free bar. There is such a thing as shit drinks on a shit boat totally unsuitable for a party. A free bar on a boat is basically a big bucket of orange juice with peach syrup and grenadine in it.
8. The self declared official Zante 2019 Tourist group on Facebook is of course completely unofficial and exists solely to get you to book a booze cruise. The truth is distorted on this group, with fake reviews posted. Negative comments about their boat party are deleted in seconds and 90% of what they claim to offer is complete bullshit. We think it's a disgusting way to trick money out of people. Fake pictures. Fake reviews. Falsely advertised. If you are looking for real reviews to make a decision then use an authorised company like trust pilot or look for reviews on Twitter and Trip Advisor.
9. It's a tricky business. Whether you get tricked by your hotel rep or tricked into giving over your card details for a free deposit you do need to watch out. VVIP events zante is a UK ltd company, a family run business with the same Greek and UK team running the events for 7 years. Our reputation is of paramount importance to us. We don't want to trick you, or lie to you, we are completely transparent, and will happily refund you in full if you are not happy with what you receive.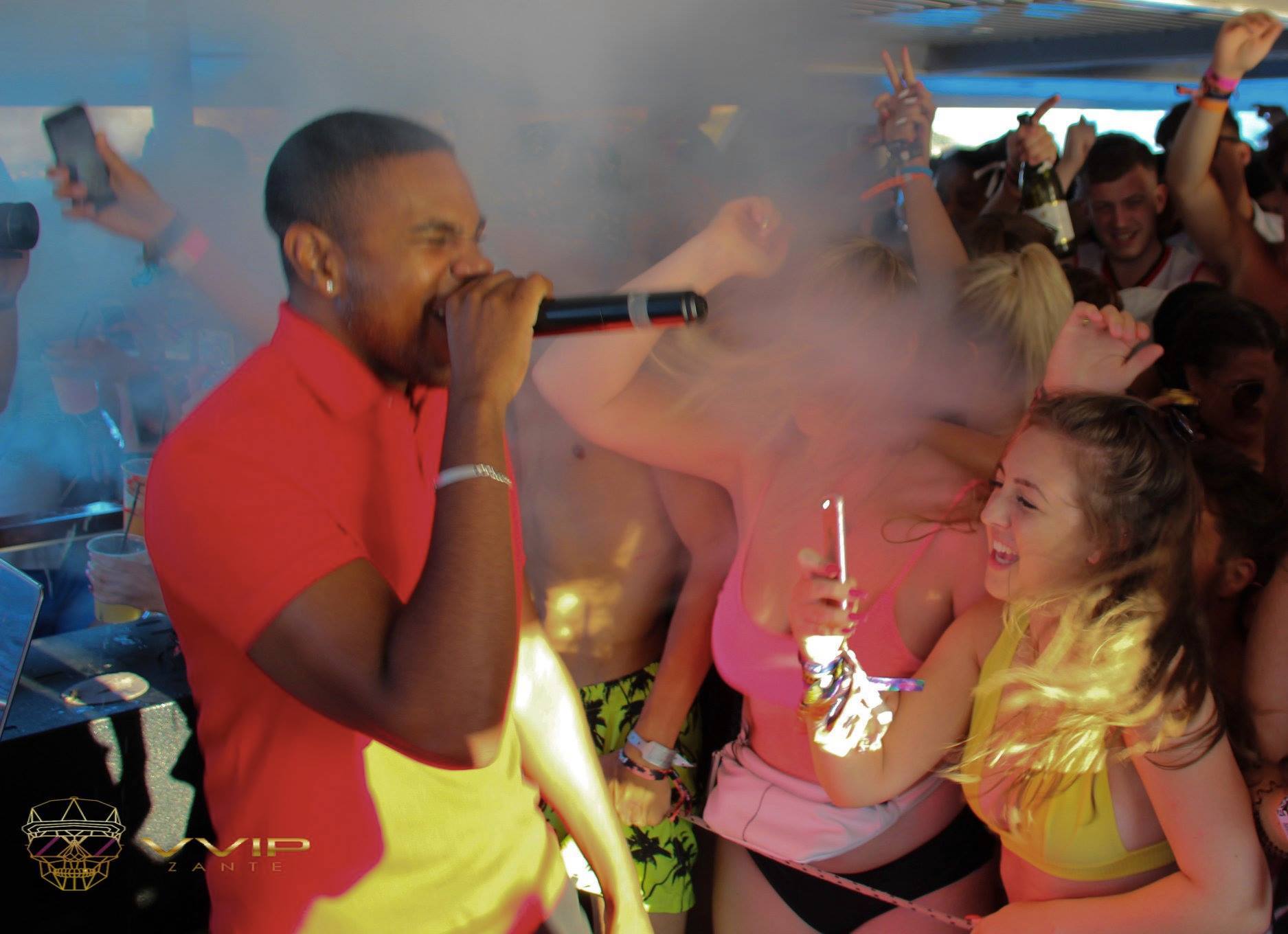 VVIP Yacht Party Event Details