How much spending money for a week in Zante?
This is a very common question we receive and for good reason – there's nothing worse than running out of money and finding yourself broke and stranded in a foreign land, trust me on that one!
Of course, your Zante spending money budget all depends upon you! Are you a baller or a student? Are you on benefits or in gainful employment? Or maybe the bank of Mum and Dad is funding your expedition?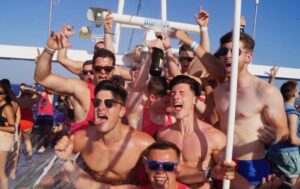 Whatever your disposable income, here's how it is.
You could last a week in Zante with 100 euro spending money. The vast majority of Zante 'workers' don't earn that much. Many of the workers survive the Summer on €1 pizza slices or €2 Gyros (Greek style kebab) washed down with cheap village wine and a shared bottle of Rushkinoff in their room before they hit the Laganas Strip, where they mince about bumming fags and mine-sweeping drinks.
The good news is that most clubs in Zante are free entry and there's plenty of cheap drinks to be guzzled on the main Strip where you can buy 50 cent shots if you know where to look. They taste absolutely awful but hey ho.
You can get two cocktails and six shots for only 5 euros at some of the desperate bars so with 50 euro in your pocket thats 20 cocktails and 60 shots for the night, more than enough for most people! Many European tourists on holiday in Zante barely spend 100 euro in total over their entire week, so in summary Zante can certainly be done on a budget!
However, you're on holiday! Money schmoney let's get stuck in! Your week in Zante may well be your first taste of freedom and independence which you have looked forward to for ages.
You've worked hard saving up for Zante or maybe you've studied hard and feel Zante is a worthy place to blow your Student loan, so of course you can always GO LARGE on your Zante holiday.
You could easily blow 1000 euro + (£850) spending money in a week if you wanted, it really just depends how you roll.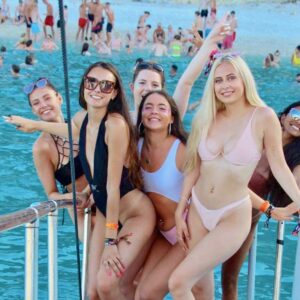 Speaking from personal experience I blew 250 euro on my first night on the Laganas Strip in Zante buying multiple rounds of cocktails, Jager's, laughing gas and fishbowls then woke up on the floor next to a chubby, half-naked hairdresser from Swindon with her head literally wedged into my toilet bin – we had both passed out while she was vomiting. Aaaah those were the days….
Zante Spending Money Guide for 1 Week
A Sensible Budget 
Budget 30 Euro a day for food, that will be enough for at least a decent breakfast and evening meal. Aim to spend 50 Euro a day for booze (minimum) and of course you will need some money for events as there are some unmissable party's in Laganas.
You don't need to do one every night of your holiday, you want to enjoy the Laganas Strip a few nights at least. Aim to spend 150 – 250 euro on events if you buy them from ticket sellers, hotel reps or outside the clubs in Zante.
So, that's about 600 euro for a week which is about £500. You can do a week easily on £300 if you have a couple of quiet nights and you're not a massive drinker. And like I said above you could survive a week on £150 if you had too, you're probably not going to starve.
A good way to save money is to buy an events package and pick up a Zante discount wristband. VVIP Zante offer the A-List Package which includes the VVIP Yacht Party, The White Party, Nathan Dawe Tour ,Tom Zanetti and Zante Foam Party.
A-List Zante ticks every box for partying in Zante giving you quality events hosted at the islands best venues like Karma Day Club and even better saves you all the commission you would pay in resort. A huge line up is already confirmed for 2023 including Camelphat, Hannah Wants, Solardo and Gorgon City.
Reserve early for the best price – 2023 is going to be heaving.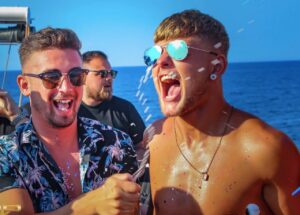 The events in our A-List package purchased in Zante would cost you over £180 if you wait until resort, but if you reserve online before you leave you only pay £99 – £129.
You can book your Zante 2023 Events Package here at www.a-listzante.com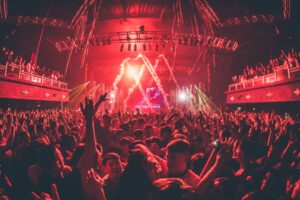 If you haven't booked your Zante holiday yet, remember there's lots of options other than the standard package holiday. There are plenty of cheap flights to be found if you look on www.skyscanner.net you can get returns from as little as £150.
Then book your own room up via www.booking.com and it works out a lot cheaper overall.
It's also never a bad idea to have a look round on www.nakedzante.com for some tips on what to do and where to go in Zante and how to avoid catastrophe.
However, you get to Zante, and whatever spending money you bring, make sure you're onboard the VVIP Sunset Yacht Party as there's a very good chance it will be best night of your holiday. Check out event details here VVIP Yacht Party Event Details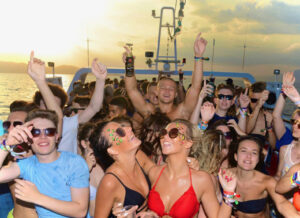 Zante's Most Expensive Mistakes
i) Waiting until you arrive and buying an event block from your hotel reps for £280. Wow. This is just throwing money away, 50% of what you hand over is pure commission to your rep so you're basically paying for their food, drinks and partying all week as well! Reserve the events you like the look of online or buy in resort from shops, street sellers or outside the clubs.
ii) Renting a quad bike and crashing it. This can cost you hundreds if you damage it, they will extort the money from you (because you gave them your passport you donut). Or, if you have an accident it won't be covered by your holiday insurance and you could end up paying up to £30,000 to get an air ambulance home. Mother will most certainly not be amused!
iii) Drinking so much you get scooped up by an ambulance and put on a drip. You then pay 150 to be rehydrated. Epic fail.
Ok, hope you enjoyed this guide, now do yourself a favour and share this spending guide with your friends so they bring the right amount of money and you don't have to bail them out.
Guide by Chris C  (Zante 2012 – current)
Further Zante info
VVIP Yacht Party Event details